Test Trip 1
Now that I have my new bike, racks and panniers I was anxious to try it all out!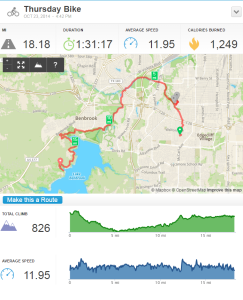 My first test trip on my new bike was on October 23, 2014.   For this trip I purchased an inexpensive tent and sleeping bag from Walmart and borrowed a sleeping pad and camp cook kit.   Stove was an LP stove / burner and simple boiled meal.   With the the small about of gear I used only my back 2 panniers.
This was a simple trip from my house to Lake Benbrook mostly along the bike trails.    Beautiful camp sites and since this was a Thursday night the camp grounds were mostly vacant.   Beautiful evening and I didn't need the tent's rain fly.   It has been so long since I've been camping that I really enjoyed being outdoors again.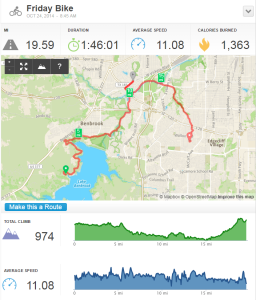 I did test my wifi connecting using my Ting (Sprint) hostspot.   Best I could get was 3G speed but I was able to connect and EVEN fixed a production database issue.    Sprint's mobile internet server sucks so this will be one thing I'll need to correct.
I was all ready to just sit outside sipping night cap wanting to enjoy some music on my MP3 player when I realized I forgot any kind of headphone or speakers.   This too will need correcting.
Final thing learned is I need a pillow!   Maybe "want" is the correct word but trying to sleep comparably on panniers, shoes, whatever just didn't work for me.   This will go on my Christmas list 🙂
It was a gorgeous morning and having some hot oatmeal and coffee I packed up my campsite and headed home.
---
Test Trip 2
My 2nd test trip was on December 5 and basically a repeat of the 1st trip except this time I had most all the camping and cooking gear that I'll be using on the trip.   I also packed closer to the amount of gear I would be taking on my CO2TX ride.   This included my new Kelty Salida 2 tent and Big Agnes sleeping bag.
Yea!!! I remembered my headphones and purchased a small speaker system.   I really do enjoy so soft music when working and relaxing.
Test trip went well and again, I SO ENJOYED camping again!   I have to say that I've started dreaming about the CO2TX trip, biking, camping, etc.
I'm including these map images from my phone app Runkeeper and highly recommend it.  I'm hopeful that it will work for me on my CO2TX trip to track my daily rides.   It will be interesting to try given that I'll be biking in some remote areas as far as cell serivce is concerned.