Day 01 – Tue Apr 7, 2015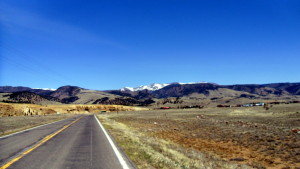 Today had to be the most beautiful bike ride in my life!
Every journey begins with the first step or in this case the first "crank" of the pedal!   I'm finally on the road.  I decided to leave a day early due to weather.   There are snow warnings for Wednesday and Thursday and I wanted to get out of the mountains before then.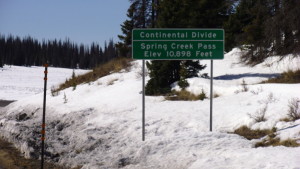 Lynne and I drove to the top of Spring Creek Pass where I loaded up my bike and took off at about 10:30.   Temperature was about 38 degrees so I had to put on all my cold leggings, arm sleeves, vest, skull cap and wind breaker as well as my full fingered biking gloves.  Despite the cold temps, I was very comfortable all day.
Bike fully loaded, my journey begins.   Today's route took me about 41 miles.   Per all my reading, one should start out with shorter mileage days … and I agree.   Besides my body needs to adjust to all this.
Everything went so well today but I know not every day will be like this.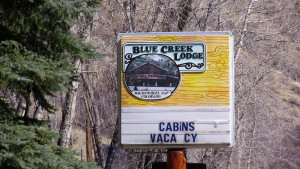 My route ended at a small place called "Wagon Wheel Gap".   Origionally I was going to camp down the road another 4-5 miles but the cold front moves in tonight and I'm not ready to camp with temperatures possibly being in the teens, so I am staying at the Blue Creek Lodge.
They are barely open for the season as they are getting ready with "Spring Cleaning".  Thankfully they are letting me stay.   I'm the only guest here 🙂
Calling it a day.   Need to figure a way to cook dinner (restaurant not opened yet) and hit the hay.
Below are photos from the day.   Hope you enjoy them.   I hope I can keep these coming.
Enjoy, Jon