Day 02 – Wed Apr 8, 2015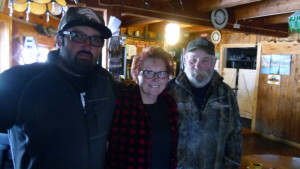 I've met some of the nicest people so far.   First there is the Philbern family that own the Blue Creek Lodge since 1976.   They took me in not only as a guest but as family.   We sat in their dining room in front a big roaring fire with coffee and just chatting.  Photo shows Bill 3rd, Theresa, and Pops (Bill Sr).   This is a family run establishment with 4 generations all helping out.   I'm told that Theresa makes the best pies around with the coconut cream one of the most popular.   Personally I want to try the rhubarb pie and the pecan pie!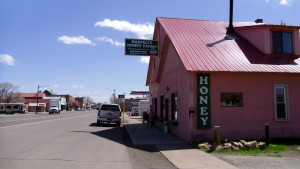 In Monta Vista, CO, I decided to stop at the Haefeli's Honey store.   My friend Steve and I had stopped there once before many years ago on one of our trips to Lake City.   I went in to purchase their honey straws … which way beats any kind of gue pack.  These are fairly small and I could easily carry them with me.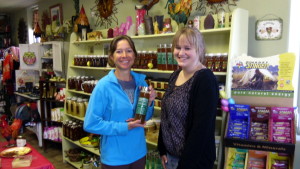 Got to chatting with Laura, one of the proprietors, who is a runner herself.   On my way out she saw I was on my bicycle and called be back into the store to give me some samples of "Honey Stinger" energy chews and energy bar.   It is just such a good feeling that people take an interest and support one's journey.    Thank you Laura.
On with today's journey.
Got up about 7:30, cooked some oatmeal and had a coffee with Bill Jr as he started a fire.   Temp outside was about 32 degrees with clouds and wind and a few snow furies.   Packed everything and put on my warm biking clothes and headed out at about 9:45.   Really nice ride on into South Fork.   A bit of wind here and there but not too bad.    It was really exhilarating riding along the Rio Grande river and the small railroad track.
Arrived at South Fork after about 11 miles at about 10:45 and turned East towards Monta Vista.   There was west tail wind that really helped me up the hills.   Took a break at Shaw Creek.   Now that I, once again, had cell service called my wife Lynne to let her know things were going well.
Continued on … but the wind was really picking up out of the South almost blowing me over.   Fortunately the  highway is bicycle friendly with very wide shoulders.   I even passed another cyclist heading the opposite direction.  He definitely was not a "touring cyclist" since he did not have any gear.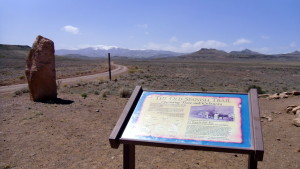 Continued on to Del Norte where I stopped at the honey store before continuing.    The winds continued to blow hard from the South and I pulled over to rest at Old Spanish Trail marker.  I had to hide my bike from the wind to keep it from being blown over the wind was that strong.   After a brief rest and photo stop I finally arrived in Monta Vista.   Originally I was going to stay at the Movie Manner just west of town but find this really nice place called the Rio Grande Hotel.    Good decision I think 🙂
Todays stats:
All in all … a great day again.    I am a bit more tired than yesterday but did ok.   With all this strong South wind and that most of tomorrow is going South, I'll probably try and get an early start.
Jon
Today's photos: