Day 12 – Apr 18, 2015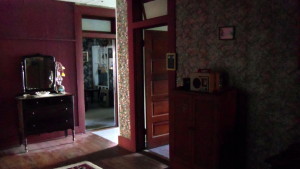 With a shorter day than my planning stated and that the Turkey Hotel was a bed and breakfast, I was not in a big hurry to leave 🙂    I took a shower and put on as clean of cloths that I could and headed downstairs.   I don't know if I mentioned but the Turkey Hotel is like going back in time 75 years.  While you can try to tip toe upstairs the wood floor squeaks at your movements 🙂   Inside the restraunt there are several tables around the edge but one big table, seating about 10-12, was in the center of the room.    The two guys that run the Turkey Hotel were there and brought me breakfast and, of course, coffee … and we just chatted … commenting on how slow business was at the moment.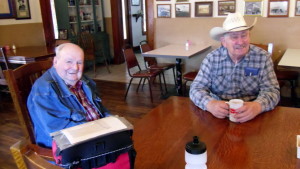 A few minutes later a couple of older gentlemen walked in having come to town for the big Bob Wills event next week.   We all got to chatting, telling jokes, listening to stories and 3 cups of coffee all agreed that enjoying company of each other is what life is all about!  The guy on the right is Ken Heide and has been coming to Turkey for many years with his singing group … and while I don't remember the name of the guy on the left, he is their harmonica player.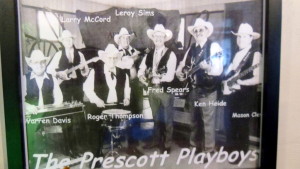 The walls in the restaurant is lined with photos of famous visitors and Ken's group, the Prescot Playboys,  is included among them.  They were playing this Saturday night and I was so sorry not be able to stay.   As a parting gesture Ken gave me a CD of their music!   It all about people!
I finally left Turkey at about 10:30 am having been so glad that not staying a 2nd night at Caprock allowed me to have the wonderful experience in Turkey!   The morning started out a bit overcast but the clouds had burned off by the time I left.   Temperatures were in the mid 60's making another awesome for biking.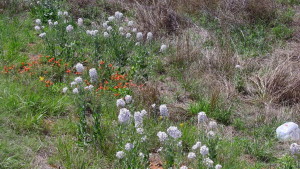 Ride to Matador was about 30 miles and went well.   Hills are beginning to develop in this part of Texas vs the flatness of my previous days.   My speed was a bit less (around 11 mph) but that was fine as I was not in a hurry.    One thing I had noted to Lynne previously was the lack of wild flowers along the road.   Well … the flowers are beginning to show now and hopefully will only get better the closer I get to home.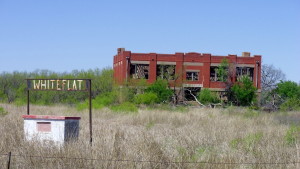 One interesting landmark that I passed was an old school building.   It is kind of sad to see such a beautiful building just abandoned.  The name is "WhiteFlat" is a 2 story brick structure seemingly out in the middle of nowhere.   The stories that could be told about this school.
Peddling on I arrived in Matador at around 1:30 p.m.   Went to the hotel I had designated called the "Billie Dean's Motel" but could not find anyone to check me in.   Next door was the "Billie Dean's Restaurant" which is obviously related so I had a lunch of their chicken fried steak and home fries as well as checked into my room.    The soon closed the restaurant for the remaining of the day (Sat night) as well as being closed all day on Sunday.   Gotta love it!
Once I check in and unloaded my bike, I rode around town and purchased some food at Lowe's which is a grocery chain in this neck of the woods.
Tomorrow I have a 70 mile day planned.   I hope to get an early start.
Today's stats: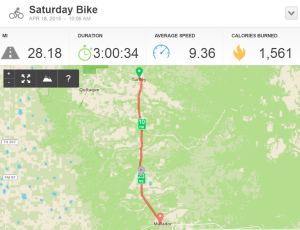 Today's photos: