Day 13 – Apr 19, 2015
Today was a scheduled long ride of 70 miles from Matador via Paducha to Crowell. TX along US 70.   As in previous days US 70 had nice shoulders and with a NW wind I was able to make much better time than I anticipated … or is it that my legs are getting stronger?   Whatever 🙂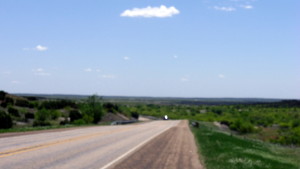 I did not wake up as early as I wanted so I didn't hit the road until 7:45 a.m.    Might of been that bottle of Barefoot Chardonnay last night 🙂  (note to self, bring corkscrew next time).   Again not feeling all the hungry I hit the road.     There was a slight breeze from the NW that helped carry me along and I was able to rip off 32 miles in about 2+ hours.
I arrived in Paducah at about 10 a.m. and stopped at a filling station to grab coffee and a bite to eat.   This was also an ideal time to take a rest as it was almost 1/2 the distance to Crowell.   As I was leaving, one of the guys from the Turkey Hotel was there and we exchanged greetings.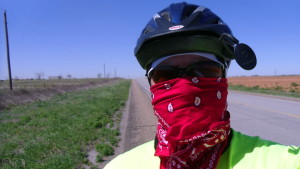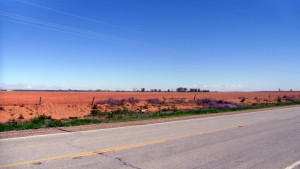 The winds had picked up and were much heavier than before but still generally blowing from the N and W.   A combination of freshly plowed fields and big gusts of winds made for lots of dust blowing across the highway.   I used my bandanna to keep from breathing in too much of it.
Once I left Paducah, while the road still had good shoulders they were much rougher than the main lanes.   Much of the time I was traveling on the outside of right lane.   With the good winds and some downhills I was easily getting speeds in the mid 20's and even the 30's.   I did keep a closer eye on my rear view mirror and would pull back onto the shoulder anytime I had traffic approaching from behind.
I haven't mentioned cows yet.   Funny but when they are along the fence line and they see you coming … they lock their big brown eyes on you … the entire herd … and their heads slowly move, following you, as you pass them by.   Very eerie and twilight zone like!    But not to fear, I got my revenge with the "all you can eat" ribeye dinner at the Turkey Hotel!   🙂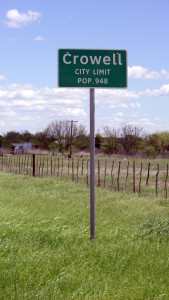 I arrived in Crowell at about 2:30 p.m. and checked into the motel.   This is about the 4th motel where I'm the only visitor.    Took my usual "after ride" shower and put on my comfy cloths and remounted my bike to see the town.    In a town of 1,000 it didn't take too long.    The main square hosts the county court house as to many such towns and assorted businesses around it.
After my tour of Crowell, I walked to a pizza place called "Sweet T's" and had an excellent chicken and bacon pizza with enough leftovers for breakfast.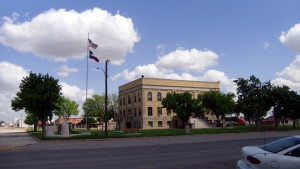 Tomorrows ride is to Seymour.   While the ride is about 44 miles, my biggest concern is that the FM roads do not have a shoulder to ride on.    I'll keep my eye on the rear view mirror a lot tomorrow.
Today stats (runkeeper finally arrived):
Miles:  70    Hours:  5     Avg speed:  14.5    Max speed:  35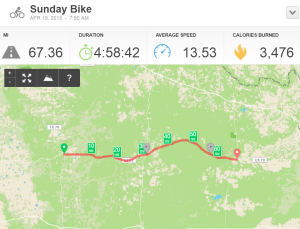 Today's photos: