Day 14 – Apr 20, 2015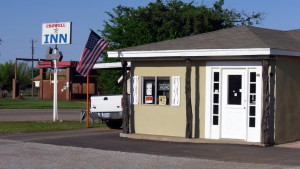 I seem to not be getting up as early as I want (damn TVs) but left the hotel at about 8:30 am or so heading to Seymour.   Route took me east on US 70 for about 6 miles then headed south on FM 1919.   My worries about traffic on FM 1919 were unfounded and even tho there were no shoulders, the traffic was very light and nice to me.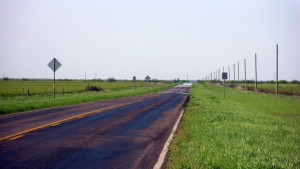 The road was good and ran thru farm and cattle country.   There were no communities along FM 1919 and I arrived in Seymour at about 12:30 pm.   Stopped for lunch at a local favorite called the New Maverick Cafe.   You could tell this was the place to eat as the parking lot was full!   Had their chicken fried steak lunch special as I evaluated my trip.
With the thunderstorms moving in Wed/Thur to the Ft Worth area, I decided to try and shorten my trip by a day.   This means splitting the Seymour to Graham ride between today (monday) and tomorrow (tuesday).    I could do this by riding onward to Olney, TX … so decision made I took on off towards Olney.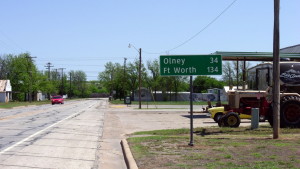 This route takes me on TX 114 straight to Olney.   As I left Seymour, the first sign of "Fort Worth" appeared … It is so hard to believe that my journey is coming to an end!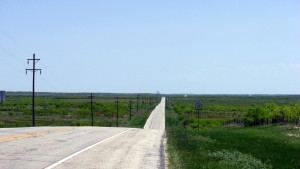 Yes … coming close to the end and the biking is actually getting harder as the roads have many more rolling hills than I have been use to  traveling.
About 1/2 way to Olney, is what is left of a town called Westover.   I stopped to take some photos of the place before continuing.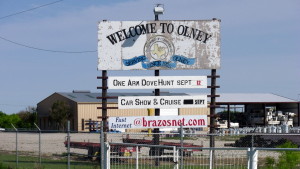 The last 10 miles clicked off every so slowly but I finally arrived in Olney at about 4:30 pm.   Found the hotel (Pipeline Inn), took a soaking bath, made dinner in my room and am about to head to bed.    Tomorrow will be a heck of a day as I attempt to make it to Mineral Wells.
Today's Runkeeper stats:


Today's photos: