Day 03 – Apr 9, 2015
God is watching over me with the weather.   After yesterday tremendous winds … today's winds are coming from the north and I'm heading basically south  AND clear skys to top it off 🙂
On a sad note, my US flag and TCU pendant were blown off my bicycle sometime yesterday between South Fork and Monta Vista.   I have no idea where.   If any finds them I'd love to have them back 🙂
One thing about traveling like this is you can eat anything since I'm burning so many calories!   So a bacon cheese burger and a big malt (lots of malt and easy on the chocolate) was last night's dinner.  Actually got to bed early allowing me to get up early.   Also took the opportunity to rinse out my bike clothing and had a nice, built in dryer in my room.
I awoke about 6:30 and was on the road by 7:45.   It was a bit cooler with temperatures in the upper 20's  I was cool but comfortable.   I altered my route for today.   After looking over my maps on google I noticed I would be on a dirt road most of the day.   While the dirt roads didn't bother me the lack of traffic (in case something happened) did.   I choose instead to head on into Alamosa an follow US 285 to Antonito.   While this added about 6 miles I think it was well worth it.   The roads the entire time had nice wide shoulders.
It was about an hours+ ride to Alamosa where I stopped for coffee and a nice ham and cheese omelette before turning south on US 285.  I was a bit cool during the ride and it was nite to warm myself up.   Dang it … I left my TCU ID at home and the restaurant was offering a student discount with ID.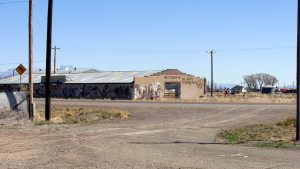 Continued on towards Antonito and just enjoyed the cycling.   Was able to go about 14 mph and basically flat roads.   Too a break in a small town call La Jara to re-hydrate as well as take some photos.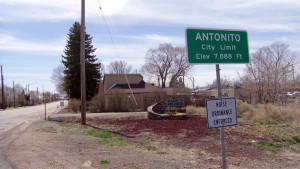 Continued on as there was a slight road elevation slowing my average down to about 11 mph.   A fellow bicyclist came up from behind and we spend a couple of minutes chatting.   As he was on a road bike and out for exercising he quickly left me behind 🙂  Finally arrived in Antonito around 1 pm and found my hotel (Narrow-Gage Railroad Inn) on the outside of town where US 285 turns left.
Antonito has a Railroad Museum that I had hoped to visit but was told that they were still closed for the seasons.   I still walked around the area taking pictures of trains and cars.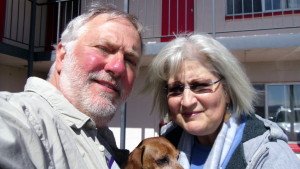 Fun thing is my wife Lynne was using US 285 to go to Santa Fe so we were able to meet for about an hour before she needed to head on.  I also got to hug my puppies too!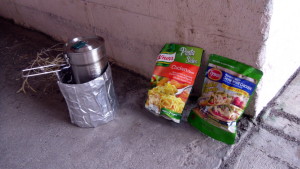 My stay last night in Antonito the power went out all over town.  Thankfully I was able to prepare dinner using my alcohol stove and packaged food I've been carrying.
Each day the rides are getting longer and a bit harder … I'm trying to hang in there.   Tomorrow is a 50+ mile day before I take a day off in Santa Fe.   Hopefully my body will start adjusting to all these daily rides.
Todays stats:
So … more photos from day 3.    Enjoy, Jon