Day 06 – Apr 12, 2015
Wow … what a day of rest can do for you.   I've been told by many that it take 5-6 days to get your body in sync with riding like this and boy are they right.
Today, we loaded my gear and bike onto Lynne's car and headed for Las Vegas, NM from Santa Fe.   Beautiful drive and we arrived early and had breakfast near the historic downtown area of Las Vegas.  I had a wonderful breakfast of a sopapilla stuffed with eggs and chorizo topped with green chili.   Maybe not the best meal for cycling … but was delicious!
Later we drove around the historic area of Las Vegas and enjoyed looking at all the historic buildings and old homes.   I wanted to see all this because one of my favorite TV shows, Longmire, is filmed here.
We next headed back west and then south on US 84 for about 15 miles before we stopped on the side of the road where I unloaded my bike for the car and attached all my gear and started my ride to Santa Rosa.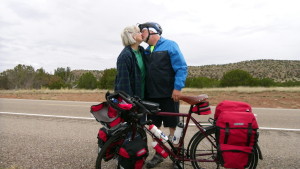 My original plans were to ride 60 miles today but with my "Ugh" day and doing some site seeing in Las Vegas, we drove down US 84 a few miles first.
I bid my wife goodbye and head down the highway.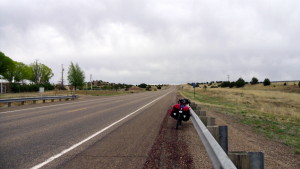 Like I said before … Wow … what a day of rest can make.   The skys were overcast and temperatures were in the 60s and 70s.   No cold weather dress today!  Despite some up hills and a bit of wind, my legs were working so much better today.  The roads were amazingly desolate but have a beauty in their own way.    Me and the world around me.    It was a great riding day to be sure.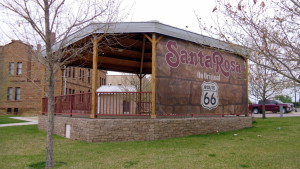 My route took me US 84 and onto I40.   While planning I was a bit intimidated on cycling on an Interstate highway but there was no other choice.   Sign did say "bicycles stay on shoulder" so I knew it would be OK.   Actually it was very safe as the shoulders were extremely wide.  Due to the downhills, I actually got up to speeds over 31 mph … Wildfire performed wonderfully!  I arrived in Santa Rosa in great time and am relaxing in my motel.   Fun thing is that this is the old historic Route 66 road that I basically stumbled upon.  Santa Rosa is such a very beautiful small town.
Day 06 stats: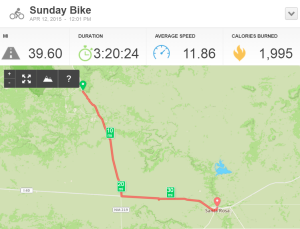 Todays photos: