Day 07 – Apr 13, 2015
Today marks the completion of the 1st week of my journey … hard to believe!   Total miles so far is 266 (on bike)  about 1/3 of my overall trip … meaning the biking days will get longer.
I left Santa Rosa at about 7:20 this morning.   The day was overcast and cool with a chance of rain.   I made sure my rain gear was handy just in case.   Very steep climb getting out of town following the old route 66 and eventually turned into US 84.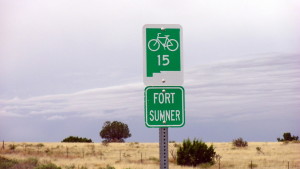 Basic heading today was south on US 84 and was uneventful on the long and lonely road.   There was basically nothing between Santa Rosa and Fort Sumner.   Fun note is that New Mexico does have bike designated highways of which US 84 is biking road 15.
My original plan was to stay at Lake Sumner which is about 18 miles from Fort Sumner but with the cooler weather and possibility of rain, I choose to continue onto  Fort Sumner.   This will also take off 18 miles from tomorrow's route allowing me to ride all the way to Clovis eliminating a day of my itinerary.  Lucky the rain stayed away for me but there were some pretty strong easterly winds of 15-20 mph.
Another really good day on the bike.   I arrived at Fort Sumner round noon time.   Grabbed a hamburger at a local dairy queen type place and eventually made my way to a motel.   Crashed for about 3 hours and made dinner in my room.
Todays runkeeper stats: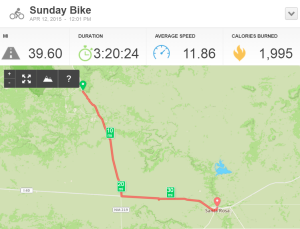 Photos from today: