Day 08 – Apr 14, 2015
Woo hoo … 65 miles today and it felt really good!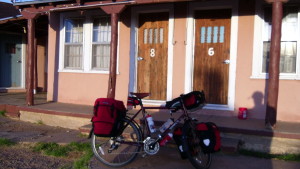 Since today I was skipping an overnight stop, I wanted to get an early start.   Had a quick breakfast of oatmeal and instant Starbucks coffee and left the Coronado hotel in Fort Sumner at about 7 a.m.  Very nice clean place and a deal at only $27 per night.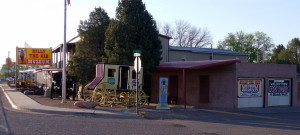 Fort Sumner is a very nice town and has the claim of being Billy the Kid's burial place.   I was thinking Granbury, TX claimed something similar?   They do have a museum about him.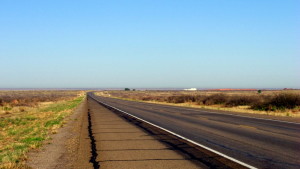 Finally road out of Fort Sumner to start the long ride to Clovis.   I was really amazed to see how desolate the highway was with an occasional abandon building along the way.
Took a lunch break at Melrose, NM where I my original itinerary had me staying the night.   Melrose is about the only civilization there is between Fort Sumner and Clovis 🙂   Met a nice couple, at the AllSups, who were from Cleburne, TX.   I gave them one of my cards as they wished me well on my journey.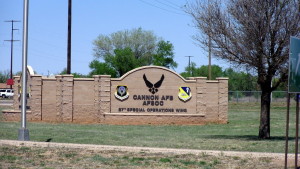 With staying in Fort Sumner last night (instead of Lake Sumner) and the early start I was able to cut out this overnight stop and continue onto Clovis, NM.    I forgotten that Cannon AFB was so far west of Clovis itself.    Seemed like a long ride before finally getting into town.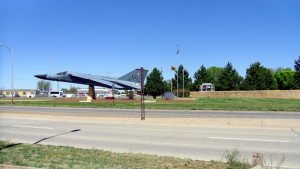 Finally arrived in Clovis and found a hotel for the night.   After washing out my clothes and a warm bath, I found a Sonic and treated myself with a big ol malt!
If I'm feeling this good during tomorrow's ride, I may skip another stop and once again combine 2 days of my trip.  We'll see 🙂
Today runkeeper stats: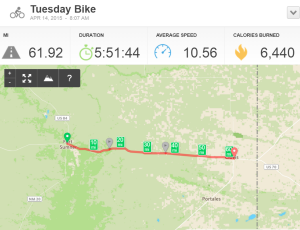 Today's photos: